8 Books You Should Read Before Seeing The Movie This Awards Season
When favorite books are adapted into movies, mixed emotions ensue. Often you're excited at the prospect of getting to watch the story unfold, but feel trepidation that Hollywood (or other such movie-making centres) just won't get it right.
According to notable and prestigious organizations such as the Hollywood Foreign Press Association and the Academy of Motion Picture Arts and Sciences, the following eight film adaptations of books got it right — right enough to be nominated for a slew of different awards.
And while the Golden Globes has passed, the Oscars is on February 24th, so you've got a couple of weeks left to get reading (and watching). Either way, grab the popcorn and let us know in the comments what you thought about the following eight book-movie combos.
---
"Crazy Rich Asians" by Kevin Kwan
Movie Adaptation: Crazy Rich Asians directed by Jon M. Chu
Nominated for (just to name a few): Golden Globe for Best Actress, Golden Globe for Best Motion Picture, Critics' Choice Movie Award for Best Acting Ensemble
This was one of 2018's most buzzed-about movies, and for good reason: it is the first film by a major Hollywood studio to feature a majority Asian American cast in a modern setting since the early 1990s. Add to that the visually stunning sets and opulent scenery, the screwball comedy, and love-against-all-odds plot, and you've got the recipe for a crowd-pleasing blockbuster
Published in 2013, the novel is the first installment of Kwan's Crazy Rich Asians trilogy (yes, there's more!), and follows economics professor and "ABC" (American-born Chinese) Rachel as she travels to Singapore to meet her boyfriend's family. What she discovers when she de-boards the plane is that her boyfriend, Nick, is part of an insanely wealthy (or "crazy rich") family, and that Nick's mother is not about to welcome her with open arms.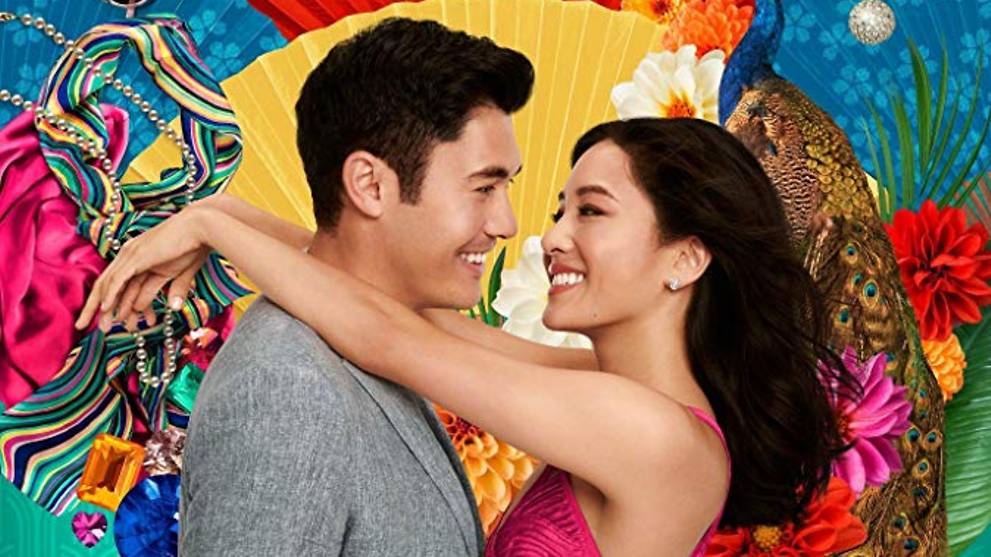 "My Abandonment" by Peter Rock
Movie Adaptation: Leave No Trace directed by Debra Granik
Nominated for (just to name a few): Critics' Choice Movie Award for Best Young Performer, Satellite Award for Best Adapted Screenplay, Independent Spirit Award for Best Feature
If you love a film with lots of dialogue, this one might not be for you — and yet, this movie with so few spoken lines still manages to say a lot. And it seems many moviegoers got the message, as Leave No Trace is one of of the movies with the highest amount of only "fresh" reviews on Rotten Tomatoes.
Published in 2009, My Abandonment tells the story of — and is told from the perspective of — a thirteen-year old girl living with her father in Forest Park, a nature preserve in Portland, Oregon. While some may feel the cave they inhabit qualifies them as homeless, their "home" includes a makeshift septic system, a garden, storage for perishables, and even a library. It does not, however, include a permit that allows them to live there, and when a backcountry jogger one day discovers the father and daughter, their way of living and relationship is put through a series of tough tests.
Inspired by a true story, both the novel and movie take readers on an often-heartbreaking trip through the wilderness, exploring mental health, the love of a father and daughter, and the search for "home."
"Boy Erased" by Garrard Conley
Movie Adaptation: Boy Erased directed by Joel Edgerton
Nominated for (just to name a few): Golden Globe Award for Best Actor, AACTA Award for Best Film, GLAAD Media Award for Outstanding Film
Some decisions in life are impossible to make, and this movie based on Garrard Conley's memoir takes a particularly raw look at 19-year old Conley in the middle of one of those impossible decisions.
Conley grew up in small town Arkansas, deeply rooted in church life, with a Baptist pastor as a father. At 19, he was outed to his parents and forced to choose between going to a church-run conversion therapy program meant to "cure" people of their homosexuality — or lose his family, friends, and the faith he'd spent his entire adolescence cultivating.
While Conley does enroll in the 12-step program meant to alter his sexuality, the paths people take usually splinter. Soon Conley finds himself walking many different roads of self-discovery in this coming-of-age narrative that is at times brutal, but most of all triumphant.
"If Beale Street Could Talk" by James Baldwin
Movie Adaptation: If Beale Street Could Talk directed by Barry Jenkins (III)
Nominated for (just to name a few): Golden Globe Award for Best Motion Picture, Golden Globe Award for Best Screenplay, Academy Award for Best Supporting Actress
Empire Magazine described this Oscar-nominated film for "Best Adapted Screenplay" as "a sort of Romeo and Juliet with systemic racism replacing the family feud." If that doesn't intrigue you enough straight off the bat, we'll tell you a bit more about James Baldwin's novel, which is brought to life by the director of 2018 Oscar-winner Moonlight:
Tish Rivers is a 19-year old mother living in 1970s Harlem. She's deeply in love with the father of her child, a young sculptor called Fonny. He loves her too, and the pair plan to get married, until Fonny is wrongfully imprisoned for a terrible crime he didn't commit. Faced with heartbreak and injustice, Tish's family and Fonny's family must set out to clear his name in this story that is passionately sad, palpably hopeful, and unflinchingly honest.
"The Hate U Give" by Angie Thomas
Movie Adaptation: The Hate U Give directed by George Tillman Jr.
Nominated for (just to name a few): Critics' Choice Movie Award for Best Young Performer
Starr Carter is a 16-year old girl dealing with many contrasts: she spends her days at a fancy suburban prep school and lives in a low-income neighborhood. But when her unarmed best friend, Khalil, is fatally shot by a police officer, she is devastated.
Now her murdered best friend is being portrayed all over the media as either a dangerous drug dealer or a symbol of racial injustice. On top of all of that, Starr's family is being threatened because she's the only person who really knows what happened the night of the shooting. It's up to Starr to decide what to say, whether to say anything at all, and what either her silence or words will cost those she loves.
"Can You Ever Forgive Me?" by Lee Israel
Movie Adaptation: Can You Ever Forgive Me? directed by Marielle Heller
Nominated for (just to name a few): Academy Award for Best Actress, Academy Award for Best Adapted Screenplay, BAFTA Award for Best Actress in a Leading Role
When you have an Upper West Side studio in New York City, you hang on to it at all costs — or at least, that's what Lee Israel (portrayed by Melissa McCarthy in the movie adaptation) does in her 2008 memoir.
Israel made a career writing acclaimed biographies, but found herself near-broke and about to lose said studio in the 1990s. Armed with her experience researching celebrities, she took a Greenwich Village phone book to start a one-woman operation forging letters written by deceased famous figures. During the lifetime of her "business," Israel forged and sold over 300 letters, from the voice of a multitude of infamous people, including Dorothy Parker, Edna Ferber, and Louise Brooks. Her memoir is an engaging, candid, and self-deprecating look at her foray into a life of crime.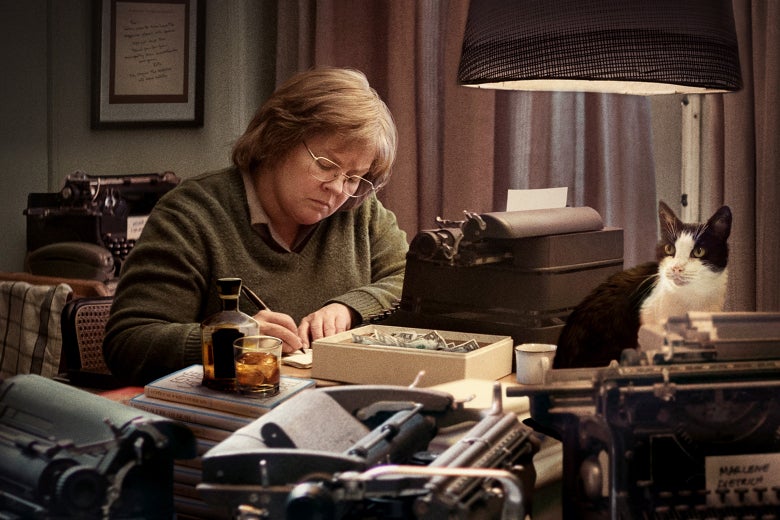 "The Wife" by Meg Wolitzer
Movie Adaptation: The Wife directed by Björn Runge
Nominated for (just to name a few): Academy Award for Best Actress, Independent Spirit Award for Best Female Lead, Golden Globe Award for Best Actress
"Behind every successful man there is a woman," is what might come to mind when you're introduced to married couple Joan and Joseph Castleman. Joseph is one of America's preeminent novelists, and when we meet him, he is on his way to receive a prestigious literary award. Joan is with him, and has spent the better part of her life suppressing her own skills with pen and paper to support her husband's career.... until now.
Starting In Media Res (latin for "in the middle of things"), both Wolitzer's novel and Runge's film adaptation begin with the breaking point of the Castleman's marriage, and then journey back to the 1950s when Joan and Joseph first met. With an intriguing exploration of the nature of relationship dynamics, the story follows the development of their courtship and marriage, the series of decisions and sacrifices that were made along the way, and climaxes with the reveal of a long-kept secret. The characters are expertly written and developed by Wolitzer, and Glenn Close's on-screen portrayal of Joan has so far won her both a Golden Globe and SAG Award — and an Oscar for Best Actress doesn't look unlikely.
"Annihilation" by Jeff VanderMeer
Movie Adaptation: Annihilation directed by Alex Garland
Nominated for (just to name a few): Critics' Choice Movie Award for Best Sci-Fi/Horror Movie
If at first you don't succeed, try, try, try, try, try, try, try, try, try, try, try again (in case you lost count, that's 12 attempts). And that's where we join Jeff VanderMeer's novel: on the twelfth expedition to Area X.
Earlier attempts to probe this isolated terrain led to a very diverse range of results. The first group to return spoke of a purely idyllic natural landscape. The second resulted in mass suicide. The eleventh group of explorers all died of cancer within weeks of their return. Now, the twelfth group, consisting of four women with backgrounds in biology, land surveying, psychology, and anthropology is on a mission to get an oversight of Area X without being brought down by the land itself.
But it's not just Area X that has its secrets — the members of Group 12 have their own, and it might just be what leads to their demise.
Other great books to check out before you watch the movie:
Black Klansman by Ron Stallworth
A Morte de Stalin by Fabien Nury and Thierry Robin
Beautiful Boy by David Sheff
Wildlife by Richard Ford
---
Did I miss any? Who are you rooting for come Oscar night?